To a majority of art lovers, traditional art appreciation happens in a certain gallery with limited visiting time. However, suppose those works of art were endowed with modern technology. Visitors would have far more possibilities in enjoying them.
2017 marks a significant year for digitizing art work at many galleries in China, and they have striven to redefine the way art is experienced.
The Beijing-based Today Art Museum is no exception. Together with the emerging internet company APUS Group and non-profit institute Art and Science Research Center, the art gallery announced the establishment of "Neo Media Collective in China" alliance in Beijing on Dec 10, 2017, hoping to give a boost to the promotion of Chinese culture and arts on the world stage.
One of the highlights for the alliance so far is the official release of APUS Arts, an app that can help Chinese artists promote their works effectively on the world stage.
"APUS Arts aims to create an online art platform for young artists to display works and exchange ideas with one another. It breaks the boundaries of time and space," said Li Tao, founder and CEO of APUS.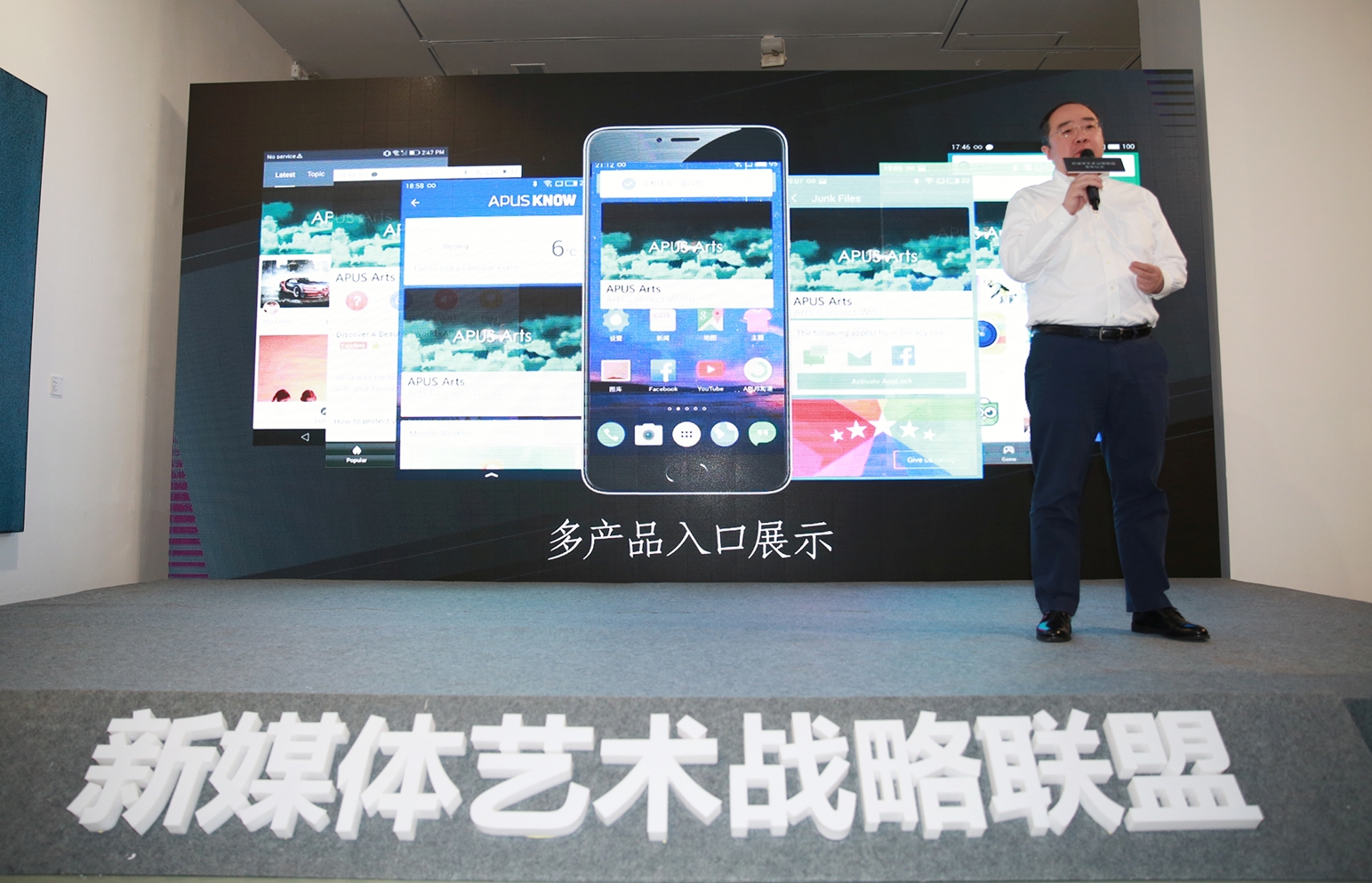 APUS founder and CEO Li Tao speaks at the founding of the "Neo Media Collective in China" alliance in Beijing on Dec 10, 2017.
According to Li, APUS will integrate the global art resources and unite with world-renowned art institutions in the future, with a view to holding regular exhibitions of potential artists' outstanding works both online and off.
"We don't lack talents, but the eyes to discover them. In the past, the information asymmetry between artists and art-lovers buries many potential young artists in China, which is a real pity but also unavoidable," said Cai Xiao, manager of the Art and Science Research Center.
"In the modern internet era, art should be presented with more possibilities. Art and science never represent two parallel lines which will never meet. Instead, the combination of fine arts and advanced technology can bring benefit to human beings as a whole, especially the artists," Li added.
Founded in June 2014, APUS Group boasts one billion users across the globe and covers more than 200 countries and regions. The release of the APUS Arts app is the company's latest move to promote Chinese culture globally.